Ring Lord
Home
Main
Contact
Site Info
Middle-Earth
Images
Alphabets
Maps
Characters
Lineage
Time Lines
Geography
Silmarillion
Media
Ring War
Tolkien
Biography
Questions
Books
Movies
Quotes
Ring Verse
Community
Shop
Links
Vote
Poll
Awards
Nazgoth Award
Web Rings
Guestbook



Ring Lord News:
10/15/03 - I am so sorry that I haven't updated in so long. It has been on the back burner for such a long time. However I do look forward to updating stuff. I have a good deal in mind and plan on doing so soon. I am so mad that I lost out on getting tickets to Trilogy Tuesday. I had them ordered but something with the internet screwed up and I was left out cold. The I read the location I was looking at (Plano, TX) had a bunch of online scalpers take all the tickets to sell on EBay. I despise such monetary endeavors when 100s of Tolkien fans are left in the rain. Anyways that's my rant. Ill update soon!






Nazgoth Award
Get an award for your site and placed in to this sacred hall.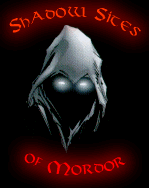 Shadow Sites of Mordor
The add your own links page for Ring Lord. Come in see the sites, and add your own.